Filler, Aaron G - Do You Really Need Back Surgery?
Available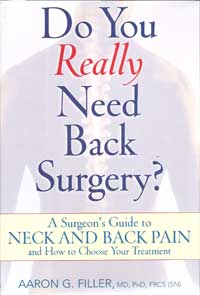 Description:

Most people have back surgery to relieve pain, but all too often it doesn't help. For the half million people who undergo back surgery each year, and the additional million who are seriously contemplating it, Do You Really Need Back Surgery? is a godsend--an informed, reliable guide to when you should consider surgery and when you should not.

Written by an internationally recognized expert in nerve and spinal surgery, this highly readable guide covers everything back patients need to know to make informed decisions about their treatment. The book discusses the details of spinal anatomy; the difference between acute, chronic, and recurring pain; shows how to keep the spine healthy; and explains such terms as spurs, stenosis, and slippage. It also reveals what clues your physician uses to predict whether a given type of pain is likely to go away with rest and exercise, and which types may become emergencies. Dr. Filler discusses the risks of surgery, the decisions you may be faced with and what options you have, and your expectations for recovery. He provides detailed explanations of the wide array of spinal injections and surgeries, including discectomies and fusions, as well as innovative procedures such as electrothermic and laser techniques and artificial disks. He explains the various medical imaging and diagnostic tests available and even covers the complexities of health insurance.

From Pilates to pedicle screws, and from osteoporosis to spina bifida, Do You Really Need Back Surgery? covers all the questions your doctor usually doesn't have the time to answer. Featuring more than 80 illustrations, it is an essential manual for every neck or back pain sufferer.