Swezey, Robert L. MD (editor) - Neck Pain: Perspectives and Strategies for the New Millenium
Available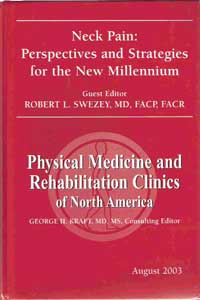 Description:

Click here for the discussion thread about this book.
Neck Pain: Perspectives and Strategies for the New Millennium
Published by: Physical Medicine and Rehabilitation Clinics of North America
I got this at NASS in 2005. Its VERY, VERY technical... by doctors, for doctors.
This book is not about ADR and does not even mention it. Again... very technical but many here will get a lot out of it. This is for techno-geek types... are there any rocket scientists... physical therapists... engineers... among us?
Eleven papers... Here is the table of contents entry for the first article:
* The Anatomy and Pathophysiology of Neck Pain
This article carefully itemizes the various anatomic structures that can evoke neck pain, putting in perspective what clinicians know, what they assume, and what they need to understand better about neck pain and pain referred from the neck. The critique of many of the accepted entities in the differential diagnosis of neck pain is crucial to an understanding of the causes of neck pain and an ability to implement appropriate therapies.
* Cervical spine: A radiologists Perspective
* Electrodiagnosis of Neck Pain
* Physical Function Measurements in Neck Pain
* Labatory Evaluation of Neck Pain
* Therapeutic Modalities in the Management of Nonspecific Neck Pain
* Pharmacologic Therapies for Neck Pain
* Psychosocial Therapies for Neck Pain
* Contemporary and Alternative Methods of Treatment of Neck Pain
* Operative Treatment of the Patient with Neck Pain
Click here for the discussion thread about this book.