Everyone having surgery should be aware of signs of Deep Vein Thrombosis. If you have to take a long flight, your risks are substantially increased.
My dad sent this to me this morning... I thought I'd share it.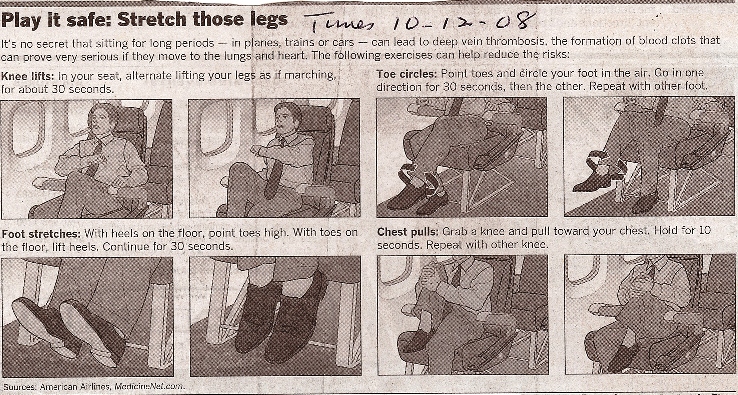 A quick google of "DVT long flight following surgery" will yield many excellent websites.
Take this seriously. Wear your TED stockings as long is you are largely immobile after surgery. Most of the surgeons I know who deal with traveling patients will insist on anti-thrombosis injections in the first few days post-op, and then another injection before your flight. Wear your TEDs on the flight. Do the exercises.
From a UK public health website, here is an excerpt from
Advice on Travel-Related DVT
The risk of DVT from air travel
There is evidence that long-haul flights, especially when passengers have little or no exercise, may increase the risk of developing DVT. Information on the proportion of people who develop DVT related to air travel has been limited until recently; new research carried out by a consortium of medical research scientists under the auspices of the World Health Organisation has found one case of DVT for every 6000 journeys that lasted 4 hours or more. Nevertheless, it is difficult to decide whether the flight itself caused the DVT/PE or whether these people were at risk for other reasons. This is because DVT and PE are relatively common conditions anyway and more people than ever now travel by air every year.While it is difficult to be certain what the exact causes of travel-related DVT are, experts agree that lack of exercise or immobility are major underlying risks. They have also identified that people at increased risk of DVT/PE in general are those more likely to develop travel-related DVT/PE.